TutorTrac Schedule
Although most Bear CLAW tutoring is offered via drop-in tables with no appointment needed, one-on-one appointments are available for select courses under Subject Area Tutoring. The Presentation and Writing Center also offer scheduled one-on-one appointments. See the instructions below.
Schedule an Appointment Online Using TutorTrac
Go to My Missouri State, then the Campus Life tab and use the TutorTrac link. Use the Search Availability button and select Subject Area Tutoring, Writing Center or Presentation Center. TIP: keep your search as simple as possible to find more appointment slots.
To book an appointment, click on the time slot desired and fill in the necessary information.
Appointments must be booked at least 24 hours in advance and no sooner than 4 days in advance.
To cancel or change an appointment, please call 417-836-6398 during office hours.
Every time you book, cancel, or move an appointment, we'll send you an e-mail of the change.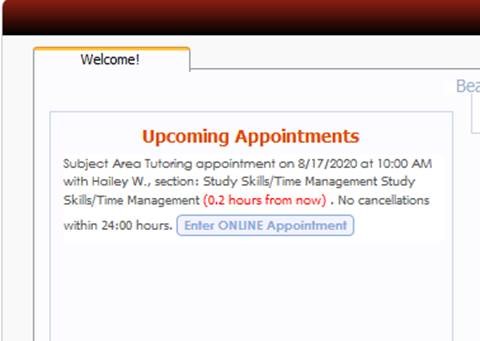 Missing an Appointment
If you miss three appointments scheduled in advance, you will be unable to use the services of the Bear CLAW for the remainder of the semester. Cancelling an appointment less than 24 hours before your scheduled time counts as a missed appointment.
Preparing for an Appointment
Our tutors will help you in every way possible during your session, but there are a few ways you can prepare ahead of time to make the most of your session:
Please prepare your questions prior to your appointment
Have your instructor's assignment sheet, related class handouts, and textbook at your side
List your goals for your meeting
NOTE: Please note that online tutoring appointments may be recorded for training purposes.
Download instructions for scheduling an appointment online
If you do not find your course in your search, you may want to consider meeting with your professor or with an Academic Coach or Peer Counselor to receive additional assistance.
You can watch the YouTube video to let a tutor explain what you can expect if you are seeking online tutoring.
If you have questions you may access the Zoom Receptionist room. To access the room, log-in to My Missouri State, navigate to the Campus Life tab, locate the Bear CLAW block, and click on the ZOOM Bear CLAW space.
Hours: 10 a.m. - 3 p.m. Monday - Thursday; when classes are in session.